In September 2008, The Congleton Business Group Marketing Team was formed, with the prime objective ' to develop a distinctive brand image for Congleton'. The team, chaired By Dawn Gibbins, has now grown to include 12 passionate volunteers with many skills and attributes, all contributing to the aptly named BEAR Team:  Beartown, Enrich, Awaken, Revive.
The Mission
to make Congleton a proud, happy, healthy and prosperous community that people love to work, rest and play in.
The Team Launches the Beartown Re-Branding Strategy
To encourage tourism, business development and a better lifestyle for young and old, the Team identified that Congleton needed to enhance its local and national distinctiveness, making Congleton unique to other towns and raising its profile as a Cheshire Town.
The team, consulted, commissioned, reviewed and finally completed a brand audit with the outcome that the bear was a key image for the Town through both the history and the fact that various local Companies had already adopted the Bear and the beartown name.
Consequently, a creative brief was drawn up and briefed out to 6 local agencies, out of these, 3 presented back their proposals. The preferred options were presented to the Town Council and the Regeneration Partnership and the Brand, 'Congleton Beartown', with the signature line, 'where friends are made', was born. The Creation of the logo was the culmination of combined work by Andy Swinson from ASG Creative Communications  and Ian Turnock from Studio Latitude, both from Congleton and with a passion for improving the image of the Town.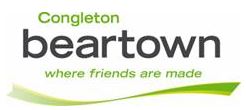 The Bearteam have went onto organise Bearmania, a hugely successful project which won national awards. Please visit the Bearmania page for the full story.