Congleton Wakes was always a cause for great excitement in the town. Every year the festivities gave hard working people a chance to chill out and have fun. Unfortunately though, one year sometime in the 1600s, Congleton's dancing bear became ill and died just before the Wakes were to start. This was a disaster, as the bear was not only popular with the crowds but also a good generator of income for the town. There was no money immediately available to buy a new bear at such short notice, so in desperation the Wakes organisers approached the town Alderman to ask what could be done.
At this time, a sum of money had been set aside to buy a new bible for the town. The old bible was very old and needed replacing. Seeing the townspeople's plight the Alderman suggested that they borrow this money to buy a new bear then replace it with some of the money the bear raised during Wakes week. This bible money became a sort of loan which the townspeople paid back as soon as they were able.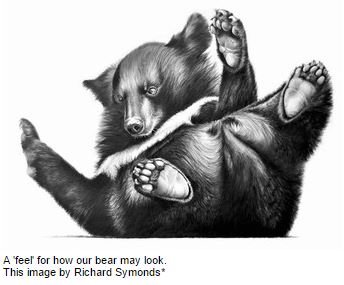 As is so often the case when a tale is told and retold, the facts have become altered over time, and the story now stands that the town bible was sold to raise money for the new bear… this is not actually true. Even back in those times Congleton people demonstrated great entrepreneurship by taking out this loan and using it in a business-like fashion. This sense of adventure and drive is still with us today, born out by the number of small businesses still thriving in the town. With this core of business excellence, together with the boundless enthusiasm of Congleton's people, we will be able to gather our strengths and discard our weaknesses… and put Congleton on the map once again.
Famous for its story of the Bear and Bible, Congleton once again has its own bear.
This story has become such a part of Congleton that the name Beartown has been with us for as long as any of us can remember.
We are, however, very aware that Congleton's history is actually based on a pastime that is cruel and exploitive to the poor bear. Because of this, our mission is to keep the Bear as our symbol, but at the same time work hard to redress the balance by using our identity to help distressed bears throughout the world. Congleton's new bear is an Asiatic black bear, otherwise known as a Moon Bear, because of the crescent shaped patch on its chest. The Moon bear is particularly topical due to the fact that there's been so much publicity about bile farming
Our bear will act as a figurehead to lead Congleton into the Public Eye as a symbol of courage, stamina and fun and will help people to relate to their town and its history.  He's a very friendly soul with a great sense of humour, and will always do his best to help others in any way he can. Being a kindly bear he loves to involve his friends and family in everything he does.
One thing our bear loves to do is travel and find out about new places. His sense of adventure and curiosity can sometimes get him into trouble but he loves to just get out there and do things. The one thing he loves above all else is Congleton and its surrounding countryside.
Bosley, Congleton's new bear turns back the clock 400 years
The "new" Congleton bear is to be called Bosley and was named by a competition for the school children of our town featured in The Chronicle our local newspaper.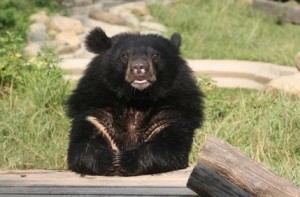 Gill Maltby the UK Director of Animals Asia will be attended the Charity Bearmania Ball and auction on Saturday 8th of October at the Lion and Swan Congleton to receive the cheque for the rescue of "Bosley". Local Charities will also benefit from profits made from Bearmania.
We have received a heartwarming update on Bosley's progress from his rescue from the torture of bile farming to his rehabilitation amongst new and stimulating surroundings.  Bosley is a charming character and has made lots of new friends…
Maggie, Angus, Taurus,  Shima,  Vandrew,  Bosley and  Fynn were integrated this week with part of the group of 10 who they have been living next to for the last few weeks in house 3. Polly and Kollo were the first to meet a few of these bears, followed by Luca,  Helios,  Baerli and Hartley. Bosley and Angus have enjoyed meeting the playful boys of the big group, wrestling loads with Kollo, Luca and Baerli. Maggie as always is a bit of a flirt and enjoyed the new boys but seemed a bit intimidated with some of the larger males. Fynn seems less pleased with the new bears in his group, he thinks he is big and strong but a load roar of one of the adult males will have him jump in a basket straight away. All the bears are on a very high food portion right now so hopefully the desire for food will become less over time and might settle even the greedier bears. Enclosure time has gone well and the bears seem to relax more in a larger space, most obvious with V026 Taurus who played happily with bears he growled at the previous day when the integration started in the dens. Next week more bears will be added till all 17 bears are together as 1 big group.
For a full update please click here