At an Award-Winning ceremony this evening, Mon. 11 Jul. 2016, 1st Prize and Winner of the Cheshire Life Food & Drink Award was presented to Congleton Sustainability Group for our Congleton Apple Juice.
As you can see from the photograph, Peter Aston who accepted the award was elated.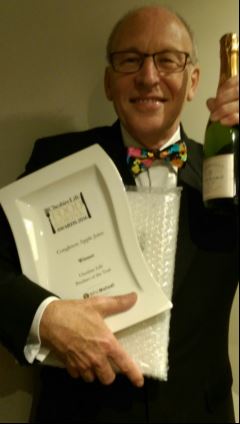 We look forward to an even better crop of windfall apples kindly donated by the community of Congleton this year.
Thanks to all who contributed in this success.
With kind regards
Peter – 07971 805 372 – peter@congletoncommunityco-op.org Stewart – 07834 525 165 – stewie@congletoncommunityco-op.org
Congleton Community Co-Operative
The Old Saw Mill
Back River Street
CONGLETON
CW12 1HJ
Please "Like" our Facebook Page – Congleton Community Co-Op – for up-to-date information on our exciting project